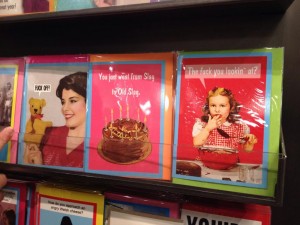 These days merchandise within card shops is as varied and brightly coloured as sweets in a candy store, but that's where the comparison ends. Not all cards are child friendly, and the Child's Eye Line UK Campaign has been advocating for stores, such as Paperchase, to show greater consideration for children when designing displays.
Following a Daily Mail article on an offensive card display in Scribbler's stores, campaign supporters got in touch with Child's Eye Line UK regarding a Paperchase display of profane cards at child's eye level. Child's Eye Line UK then tweeted Paperchase regarding the display to notify them of the problem.
Supporters highlighted the derogatory and sexualised text on cards with child-like imagery and pictures of children, arguing that the cards contribute to the sexualisation of children, especially as they are displayed alongside children's birthday cards and other children's merchandising.
A study by Coyne, et al., 2011 (Pediatrics Vol. 128, No.5, pp.867-872) shows that exposing adolescents to media with profane content is associated with a more positive view of profanity and an increased relational and physical aggression. The Children's Commissioner (2013) also found that exposing children to sexualised content makes early risky sexual behaviour more likely and makes children more accepting of violent behaviour. Therefore, exposure of children to inappropriate, foul-mouthed and sexualised card displays is certainly worthy of concern. Furthermore, the criticised Paperchase cards use nostalgic motifs (e.g. chocolate birthday cake and a teddy bear) which could imply to children that profanities and sexualisation are a part of childhood.
Paperchase quickly tweeted a reply to Child's Eye Line UK that the objectionable cards "should indeed be merchandised higher up, so we'll get them moved". In taking action to protect vulnerable children from indecent displays, Paperchase has now caught up with other responsible retailers. Numerous major retailers, including WH Smith, Tesco, Waitrose and Marks and Spencer's, have already agreed not to display sexualised tabloid and magazine covers in children's eye line following campaigning by Child's Eye Line UK. As Norman Baker MP, Crime Prevention Minister, explained, "the problem lies with the retailers, not the publishers".
While retailers have the right to stock whatever they wish and this is essential, Shadow Cabinet Secretary for Finance, Constitution and Economy, Jackie Baillie MSP, explained that retailer's freedom "should not impact on those shoppers including children who equally have the right to shop in a family friendly environment." Therefore, Child's Eye Line UK continues to campaign to ensure protection for children from all inappropriate content (including profane, sexualised and other content) which is vital to children's welfare and providing families with fair choices.
Notes to Editors:
About Child's Eye Line UK:
Child's Eye Line UK is a campaign run by volunteer parents fed up of their children being confronted with sexualized and degrading images in their local shops and supermarkets.
The campaign has cross-party support from MPs and leading teaching unions and children's charities.
A recent government report by the Children's Commissioner, "Basically, Porn is Everywhere" 2013, found that exposure to sexualized images is "damaging to children, negatively affecting their sexual development, relationships and self esteem and makes risky sexual behaviour more likely." The images and content found in publications like The Sun, The Star, The Sport and lads' mags were also linked with attitudes that underpin violence against women.
For interviews and more details about Child's Eye Line UK, please contact:
info@childseyeline.org
www.childseyeline.org
Facebook: https://www.facebook.com/ChildEyes
Twitter: @ChildEyesUK
read more